Intro to Dental Implants:
A Mini-Course for Dental Students and Residents
Dear Student,
This is basically the resource that I wished I had when I was in dental school. This mini-course explains the basics of dental implants, in a simple and easy to understand way. This mini-course is available to dental students and residents for free. I hope you enjoy it and put it to good use!
Cheers!
Ivan
FREE ENROLLMENT OPENING SOON!
WHAT'S INCLUDED IN THE COURSE?

Detailed Step by Step Surgical Instruction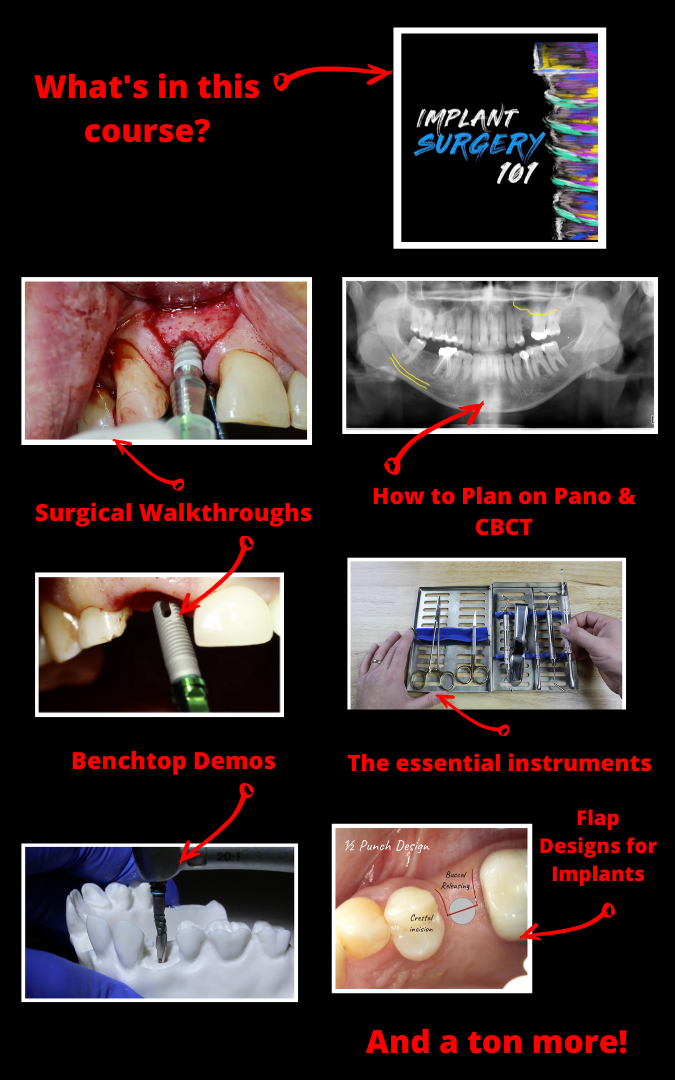 In this in-depth course, we walk you through our step by step blueprint of how to plan and execute implant surgeries like a pro.

Office Hours

You can find me online every Monday morning to answer questions, treatment planning helps, or just chat.

Downloads & Guides!
Gain instant access to downloadable references and guides! Including guides for your assistants.

Lifetime Access
Instant access to ALL the content FOR LIFE! And the content just keeps coming as we add to it!
Course Curriculum
Introduction
Available in days
days after you enroll
Syllabus
Available in days
days after you enroll
Ivan's Quick & Dirty Treatment Planning Guidelines
Available in days
days after you enroll
Frequently Asked Questions
Other online courses are like 300+ hours. I don't have time for that. How long is this one?
We know you are busy and cannot imagine staring at the computer for 300 hours--neither can we. This course is made of videos which are short and to the point. We emphasize practicality and searchability. Aside from walking you step-by-step through implant surgery. The added value of this course is the ability to easily refer back to important techniques and topics whenever you want.
Is this course fully online?
Yes, you can complete this course remotely from the comfort of your own home. There are some homework assignments for which we would recommend a dental office or dental school setting so that you can follow along with some of the hands-on work on your own.
Will I be learning from more than one instructor?
Yes. The course is quarterbacked by Ivan Chicchon who is a surgically trained prosthodontist. However, several other instructors teach some of the modules including Matthew Fien, Mark Bishara, and Allen Aptekar.
How does this course compare to an in-person course?
In our opinion, this online course is better! The reason is that you will get a very up-close look at implant surgical techniques and will be able to refer back to them whenever you want. Often, in a hands-on course, you get to take notes and get some hand outs but you might not recall the information very well. This online course provides easy-to-reference information in just a few clicks.
When does the course start and finish?
It is available from the moment you enroll. The course is structured in a 5 week timeline. Even after completing the course, you will have lifetime access to the course materials.
Can I access the course on my mobile device?
Of course! One of the benefits of our course is being able to take it On the Go.